Commercial Janitorial Services
With over 25 years' experience in the business, Alco is well-versed in providing commercial cleaning and janitorial services for a number of sectors, as listed below. We are very much in tune with environmental responsibility and practice the strictest of safety standards.
Read our green standards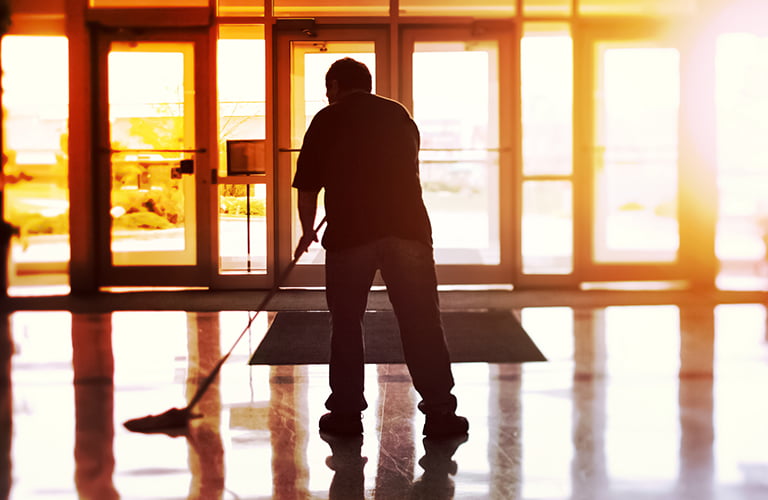 We also operate 24 hours a day, 365 days a year with Operations Managers accessible at all times. To ensure a consummate level of service delivery, we keep detailed cleaning schedules and log books, and ensure quality assurance by using Orange QC – a janitorial software that monitors and ensures quality performance and output.
Do you have a requirement for post-construction cleaning? We do that too. We'll make sure your site is in tip-top shape for new tenants, and this service includes carpet steam cleaning.
Whether your cleaning is daily, weekly, monthly, semi-annual or yearly, we are on top of it – always making sure that details are not neglected and tasks are performed according to requirements.
Sectors served
Small Businesses
Commercial Offices and Industrial Spaces
Laboratories and Healthcare Services
Hotels and Conference Centres
Educational and Government Institutions
Retail and Restaurants
Small Businesses
No business is too small for Alco's services. We will provide you with the most personalized level of service when it comes to maintaining the cleanliness of your office or work space. Do you have a sink full of dishes that need washing? A salt-encrusted entryway during the winter? Are you without a recycling service? We can take care of all of that. Plus, all the other aspects of cleaning you would expect.
Commercial Offices and Industrial Spaces
If you have a large commercial office or industrial space, it can be a daunting undertaking to clean and maintain. You can count on Alco to step in and tackle it thoroughly. Everything from machinery and cubicles to kitchens and warehouses – we've got you covered. Detailed cleaning schedules, and log books ensure everything meets your expectations. Satisfaction guaranteed!
Laboratories and Healthcare Services
The importance of cleanliness in health care environments, such doctors' offices, walk-in clinics and laboratories can't be overstated. Every nook and cranny needs to be clean, disinfected and sanitary, to avoid the spread of bacteria and infection. Alco understands this imperative and takes its work in these environments very seriously.
Hotels and Conference Centres
In this era of TripAdvisor reviews and competing AirBnB, presentation is everything in the hotel and conference business. Alco gets this loud and clear and goes to great lengths to make sure your common areas, boardrooms, suites, dining areas, ballrooms and washrooms are pristine and gleaming.
Educational and Government Institutions
Educational and government institutions are generally known to be quite high-traffic areas, overrun with students, teachers, civil servants and the general public. Made possible by the taxpayer, these are public spaces that are meant to be properly kept up and maintained. Alco appreciates this and ensures that its educational and governmental clients' spaces are in tip top shape.
Retail and Restaurants
Retail and restaurant environments are very consumer- and customer-driven. Their experience in your establishment or business can be a success or failure based on first impressions. It's essential that it be cleaned and maintained on a regular basis. Alco makes sure its retail and restaurant clients have spaces that sparkle when it matters most.
Request a Quote
Call us today at 613-742-7079 to arrange a free quote, or select your business' sector below to fill out a form. We'll get back to you within 24 hours.